ATV vs. UTV: Everything You Need to Know
Jun 8, 2019
ATVs and UTVs have a wide variety of uses, ranging from hard work to just plain fun. These two types of vehicles are similar in many ways. Both offer four-wheel drive and can be used in outdoor work settings. They also can be used to have some off-road fun on your days off. However, there are several key differences that you need to know about in order to make an informed decision about which vehicle class is the best choice for you and your needs. Read on for everything you need to know about the differences between ATVs and UTVs.
ATVs Are Great for Speed and Handling
An ATV, also known as an all-terrain vehicle, is an ideal choice for those who value performance over power. Built to handle only one rider at a time, an ATV is characterized by easy maneuverability and agile speed, making it great in crowded areas like the forest. This smaller machine can handle the tight turns and bumpy terrain with ease.
ATVs also are well-suited for racing, with many people competing in ATV race events. ATVs do take a bit of practice to learn how to ride, as turning requires the rider to utilize his or her body weight to control the vehicle. However, once riders have gotten the hang of it, they can easily maneuver the machine. ATVs typically come with a lower price tag than UTVs.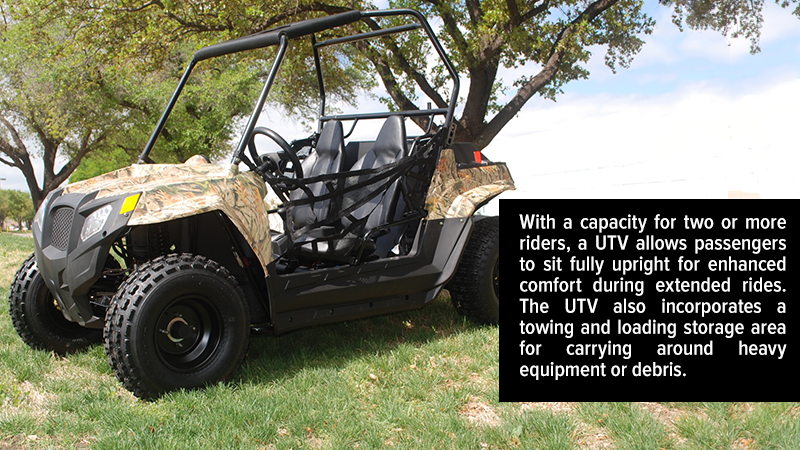 UTVs Are Built for Hard Work
Contrary to the lightweight and fun ATV, the UTV, or utility task vehicle, is designed with hard work in mind, making it ideally suited to farm, ranch or construction use. With a capacity for two or more riders, a UTV allows passengers to sit fully upright for enhanced comfort during extended rides. The UTV also incorporates a towing and loading storage area for carrying around heavy equipment or debris.
UTVs are on the heavier side, and they can pack a lot more power into their large engines than their smaller ATV counterparts. UTVs offer a variety of options for customization for both visual appeal and specialized labor. While they are generally more expensive than ATVs, UTVs give the user more capabilities when it comes to getting work done.
The Experts at Extreme Motor Sales Can Help Guide Your Decision
At Extreme Motor Sales, we carry a broad range of both ATV and UTV. Our team of experts will be happy to answer any questions you may have to help guide you in making your decision. In addition to these four-wheel drive vehicles, we also carry a vast selection of scooters and motorcycles that we offer wholesale to interested retailers. 
Contact EXTREME MOTOR SALES to learn more about our line of ATVs and UTVs ranging from 150cc to 1000cc.