Follow These 6 ATV Safety Tips to Prevent Accidents
Jun 8, 2019

When the summer season arrives, everyone is aching to get outdoors and enjoy the weather. It's also a great time to break out the ATV so you can explore some off-road trails. ATV's are fun and exciting, but they can also be dangerous, especially if you aren't properly prepared. The following ATV safety tips will help you have safer, more enjoyable rides this summer.
Choosing the Right ATV
ATVs come in a range of sizes and models, so it is important to choose the right one for your individual needs and experience. For example, if you will be riding with a passenger, only choose an ATV that is built for two riders. Trying to ride with a passenger on an ATV built for one person can restrict your movement and put you at risk of a serious accident.
Safety Training Course
If you have never ridden an ATV before, you should seriously consider taking a professional safety training course. There are ATV safety training course available in most states that are taught by driving professionals. A training course will provide a range of benefits from how to avoid accidents to what the best riding conditions are.
Dress for Safety
One of the most important things that will keep you safe when riding is dressing appropriately. The majority of injuries resulting from ATV accidents are head injuries, so you should always wear a well-made, DOT, high quality full-face helmet. Other types of safety equipment you should wear includes:
Long pants
Long sleeve shirt
Gloves
Over-the-ankle boots
Eye protection, especially if you're not wearing a full-face helmet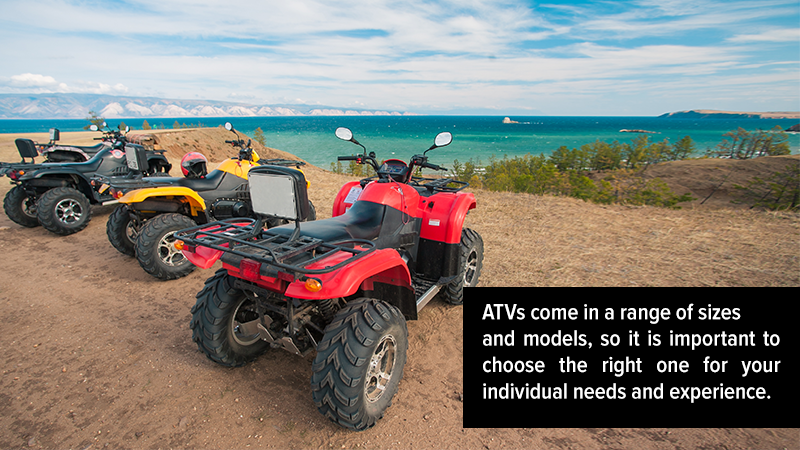 Good Running Condition
Always keep your ATV in top operating condition. If the vehicle isn't maintained properly, you are putting yourself at risk of an accident. Be sure to routinely check the tires for proper inflation, if the tread is thin, replace them. Check the fluids before each ride to make sure the levels are good. Make sure all bolts and screws are tightened to manufacturers specifications prior to each ride.
Weather Conditions
Riding an ATV in inclement weather is just as risky as driving a car in bad weather, so make sure to check the condition of the trail before you go out. Although part of the fun of ATV riding is going through the mud, if the weather is bad, it can be extremely dangerous trying to maneuver through the mud in a downpour. Make sure the visibility is good before you head out on the trail, especially if it is a trail you have never ridden on.
Never Ride Alone
You never know when an accident or other emergency can happen, so it is highly recommended that you always ride with other riders, especially on trails and/or terrain you are unfamiliar with. If your children are operating their own ATV, always make sure they have adult supervision. If you are riding alone, make sure to carry a cellphone in case of an emergency.
There is nothing better than spending the day out on the trails, but it is essential that you are aware of the potential dangers. Remember, riding on a trail is much different than riding on the street, so make sure you get familiar with the vehicle before you ride it.
Contact EXTREME MOTOR SALES to learn more about ATV safety and getting the best ATV for your needs and experience.