What to Wear When Riding Your Motorcycle
Jul 22, 2016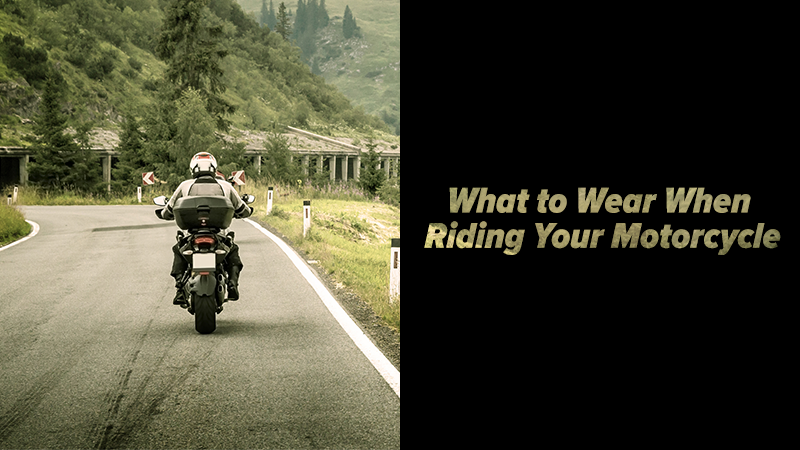 Riding a motorcycle is not only an exciting experience, but it's a great way to save money on gas and reduce environmental pollution when it comes to getting around. To prepare yourself for every trip, it is important for your safety to wear the appropriate motorcycle gear. The most important types of gear you will need include a helmet, jacket, eye protection and gloves.
These items are available in a range of styles, sizes and designs. It is important that you wear motorcycle safety gear that is well-fitting and designed to protect you while riding as well as in an accident.
Motorcycle Helmets
A motorcycle helmet is designed to protect you from the impact resulting from a crash. Motorcycle riders who do not wear a helmet have a greater chance of suffering severe head injuries, and in some cases, death. A helmet should fit snug and be DOT rated. The type of helmet you wear depends on your individual style.
There are several types of motorcycle helmets to choose from, but the most popular include:
Full-face helmets are made to cover your entire head and face. They are vented for comfort and have a visor to protect your face from debris, bugs and other environmental elements. This type of helmet offers the most protection, both while riding and if you are involved in a crash.
Open-face helmets are similar to a full helmet, except they do not provide coverage for your face.
Half-shell (beanie) helmets only cover the top half of your head. This type of helmet provides the least amount of protection. If you choose to wear this type of helmet, it is recommended that you also wear goggles or another type of protective eyewear.

Motorcycle Jackets

A jacket is also high on the list of motorcycle safety gear. Regardless of the temperature, it is highly recommended that you wear a jacket. A motorcycle jacket will not only protect you against the wind and cold temperatures, but if you are in a crash, the jacket will provide protection for your arms, back and chest against road burn and lacerations.

Motorcycle jackets are typically made from leather, Kevlar and/or nylon. Make sure it fits well and, for added protection, consider one with a reflective strip.

Motorcycle Gloves

Motorcycle gloves will help keep you warm, but they will protect your hands in case of a fall. It is natural to automatically use your hands to break a fall, and if you aren't wearing gloves, you can end up seriously hurting them. When choosing gloves, leather or Kevlar typically provide the best warmth and the most protection.

Eye Protection

Whether you prefer goggles or traditional sunglasses, wearing eye protection is one of the most important pieces of motorcycle gear you will ever need. When riding without eye protection, there is a risk of debris, dust and dirt getting in your eyes, which increases the risk of getting in an accident as well as damaging your eyes. Choose eyewear that fits comfortably and covers the entire eye area.